If you could separate your "work self" from your personal life, would you do it?
In Ben Stiller's Severance, employees of a mysterious mega-corporation called Lumon Industries undergo a procedure to psychologically separate the person they are at work from the person they are outside the office. Both personas have zero recollection of what their alternate self does at work or outside all day.
 
The show, set in a brightly lit midcentury-style office, is an eerie contrast to the outside world and a disturbing rebuttal to the "work-life balance" adages heard in every office. Giving life to the characters surrounding Lumon is a quartet of seasoned actors Adam Scott, Patricia Arquette, John Turturro, Christopher Walken, Britt Lower, and more. 
 
While we do enjoy a good binge during the weekend, Severance feels unique: it's a show you definitely wouldn't want to watch in one sitting. It's a slow-burning and disturbing piece that masterfully builds tension over the course of the show's nine episodes. 

Each episode is a chance to see something more messed up and discover the dark depths the capitalist machine is willing to sink to. You're going to want some space in between to let it all soak in — and maybe catch your breath a little.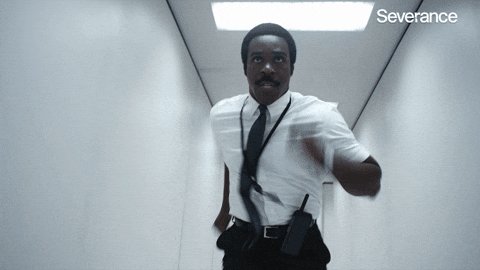 Severance (Season 1) is now available to stream via Apple TV