While Chadwick Boseman's role in Black Panther will forever be his most iconic, the late actor is also remembered for his stirring performances of legendary figures in history: baseball icon Jackie Robinson, first African American Supreme Court justice Thurgood Marshall, and godfather of soul music James Brown.
Today, we look back at one of Boseman's sensational portrayal of James Brown, in which he took everyone through Brown's illustrious career in the biographical film, Get On Up (2014).


(Left) Godfather of Soul, James Brown, who is most notably known for his songs 'I Got You (I Feel Good)', 'Get Up Offa That Thing', and 'Living in America' (Right) Chadwick Boseman does a phenomenal portrayal of the late singer in 'Get On Up'
"Get on Up" shifts back and forth in time, depicting Brown as too unconventional to fit into your idea of a musical film. Aside from the captivating performances and a taste of Brown's music career, the film candidly hints at the dark moments that plagued the late singer—extreme poverty, abandonment by his parents, growing up in brothels and juvenile prisons in the Jim Crow south—and suggests how they later manifested themselves in the form of abusive, often violent relationships with his band members, wives and lovers.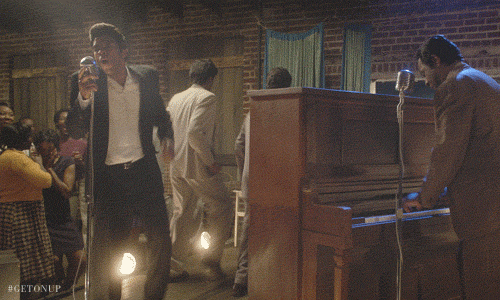 In the film, Boseman nails all of the singer's facets: tireless and melodramatic performer, dedicated activist, bad boy and businessman who believed so strongly in his talent that he never failed to stand up for himself.
Much like Brown's relentless energy, Boseman successfully captures his spirit. He sounded like Brown, channeled his mannerisms, and danced in a way that moved many. He even nailed the popular mashed potato dance, a screening requirement personally requested by Brown's family.
In an interview with IndieWire, Director Tate Taylor recounts the actor's acting process and how he stayed in character even on off times:
"He let himself go in his performance without any sense that people were watching him. It was unlike anything I'd ever seen. He stayed in character not because that was his method, but because he became James Brown."

 
It's truly one of the greatest biopic performances of all time. Even more so, it has  also exposed Chadwick's amazing breadth of work and cemented his brilliance as an actor we will never forget.